Agri Farm Painters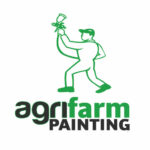 Castledermot Road
,
Carlow Co. Carlow
Farm Painting Carlow
Agri Farm Painters are farm painting contractors based in Carlow, Ireland. They provide an excellent service for local farmers that want help cleaning, fixing and painting their sheds in Carlow.
They provide a complete renovation service for farms which includes fixing damaged gutters, tarmac sealing and washing the yards, power washing down hay sheds and barns, priming outbuildings and sheds and painting all types of outbuildings.
They use only quality painting products to guarantee a long-lasting and durable painting job to your sheds and to your farm. They will always work around your schedule to ensure the maintenance work does not interfere with the day to day running of the farm yard.
Farm Yard Spraying and Cleaning
Call Agri Farm Painters in Carlow on 059 910 0498 for a free and quick estimate on farm painting in Carlow.
Projects By
Agri Farm Painters
Shed painting
Excellent work, professional & great value. Will definitely use again 👍
Shed painting
I got Farm Painters in to paint our sheds at Greenpark Kennels - Meath Dog Shelter this week. The lads done a great job and it improves the appearance of our facility. The whole place looks cleaner and it transformed the look of our shed/lean too.
Hay shed work
Had Agri farm painters do work on our hay sheds done a fantastic job cleaning and repainting really neat workers would recommend them to anyone many thanks for the job.
Painters work
Recently had Agri farm painter's carry out work on my farm sheds, clean workers, very friendly and seem to know their industry very well. Would highly recommend thanks again
Farm spraying
Done some spraying work on our farm. Painted our shes roofs and fixed parts of the loose cladding on the sides. Were reliable and fast. Finished work seems grand.
Frequently asked questions
How is Agri Farm Painters rated?
Agri Farm Painters has a rating of
4.9 Stars (based on 10 reviews)
What days are Agri Farm Painters open?
They are opened
What towns and regions do Agri Farm Painters work in?
Carlow, Kilkenny, Tipperary, Wicklow, Waterford, Kildare, Offaly, Limerick,
What services do Agri Farm Painters provide?

Shed Painting, Powerwashing Sheds, Shed priming, Sealing tarmac, roof painting, exterior wall painting, farm shed repairs, oxide spray painting,