B & M Drives and Patios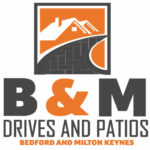 403 Margaret Powell House
,
Milton Keynes
MK9 3BN
B & M Drives and Patios are professional contractors in Buckinghamshire, who specialise in laying down resin driveways, gravel stone driveways, block paving on driveways and tarmac driveways. Along with the driveway services, we offer boundary walls, aprons and more.
We also install all types of patio slabbing, including sandstone, granite stone, concrete and garden paving. Extra options available include drainage systems, walling fencing, new lawns or steps for your patio area.
Each driveway and patio job is overseen and handled directly by their own team with no 3rd party contractors involved during the work. From wooden fencing to walling, steps to aprons, paving to tarmac and driveways to patio areas, they handle it all and more.
Call B & M Drives and Patios in Margaret Powell House, Milton Keynes on 01908 464994 for a free no obligation estimate on a new driveway or patio in Buckinghamshire.
Projects By
B & M Drives and Patios
We have no reviews for this profile. Why not leave a review yourself?
Frequently asked questions
How is B & M Drives and Patios rated?
B & M Drives and Patios has a rating of
0 Stars (based on 0 reviews)
What days are B & M Drives and Patios open?
They are opened
What towns and regions do B & M Drives and Patios work in?
Milton Keynes, Bedford, Stevenage, Bletchley, Hitchin,
What services do B & M Drives and Patios provide?

Tarmac Driveways, Block paving, Resin Driveways, Sandstone Patios, New Gardens,