Best Price Driveways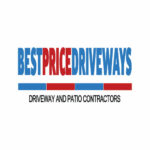 Kennelsfort Road Upper, Palmerstown
,
Dublin
Best Price Driveways have a team of experts who will help you create the perfect driveway or patio for your property. Our services range from imprint concrete to block paving and gravel, so we can meet any design needs that may be necessary. If you're looking for something more traditional such as cobbled pathways on film sets, our professionals are trained in recreating these designs too!
If you need some advice about which type of surface would best suit your home's needs, then call us today - we'll provide all the information needed to make an informed decision based on what is most important to YOU. What's right? We offer top-quality surfaces with a wide variety including artificial grass giving lawn envy without having it really take up space outside; there's
With our various options for the front and back of your home, we'll give you a gorgeous new driveway or patio that will last generations. We can even help with updating your garden area!
We have many different ideas to update the look of your house in Dublin, Ireland, from block paving driveways for people who are looking at an economical solution to laying tarmac driveways and gravel driveways out front if you're going more upscale. In addition, we offer sandstone patios as well as concrete slabbing, which is perfect for backyard areas like yours where kids might be playing on it all day long!"
Call Best Price Driveways in Palmerstown, Dublin on 01 514 3496 to get a free estimate for a new driveway or patio. Guaranteed the best prices in Dublin!
Projects By
Best Price Driveways
We have no reviews for this profile. Why not leave a review yourself?
Frequently asked questions
How is Best Price Driveways rated?
Best Price Driveways has a rating of
0 Stars (based on 0 reviews)
What days are Best Price Driveways open?
They are opened
What towns and regions do Best Price Driveways work in?
Palmerstown, Lucan, Dublin city, North Dublin, South Dublin,
What services do Best Price Driveways provide?

Imprint pattern concrete, Gravel driveways, Patio slabbing, Block paving, concrete patios,