Creative Driveways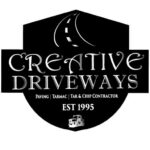 78 Sheelin Rd, Caherdavin Park
,
Limerick
Creative Driveways is a Limerick based company, specialising in laying down resin driveways, gravel driveways, block paving on driveways and tarmac driveways. The company also installs all types of patio slabbing including sandstone, limestone patios, concrete slabs and garden paving. Extra options available include drainage systems, walling and fencing to make your patio area look amazing. From start to finish we use only our own trained installers to ensure a long lasting installation.
We'll make sure that you're getting the perfect driveway or patio to suit your needs. There's a wide range of installation styles and design choices, so we work with each client individually to find out what they want for their property in Limerick. We also take care while excavating an area on your property by consulting the layout before it is constructed - this way, everyone walks away completely satisfied with our services!
We offer a variety of paving and patio options for your home in Limerick. Our skilled team will work with you to design the perfect driveway, garden or stone patio that suits your needs and tastes best! By working closely with our clients throughout every step in the process from excavating to installation, we make sure they are 100% satisfied before leaving their property.
Call Creative Driveways in Limerick on 061 270365 for a free estimate on paving, tarmac, resin bound or a tar and chip driveway in County Limerick.
Projects By
Creative Driveways
New driveway
Couldn't recommend michael & the team enough top class from start to finish 👍
Frequently asked questions
How is Creative Driveways rated?
Creative Driveways has a rating of
5 Stars (based on 1 reviews)
What days are Creative Driveways open?
They are opened
What towns and regions do Creative Driveways work in?
Limerick, Abbeyfeale, Athea, Feenagh, Ballyorgan, Bruff, Doon, Cappamore, Castletown, Croom, Askeaton,
What services do Creative Driveways provide?

Tarmac Driveways, Resin Driveways, tar and chip, gravel driveways, concrete driveways, resurfacing, block paving, natural stone patios, patio slabbing, new lawns, wooden fencing,