Doherty Driveways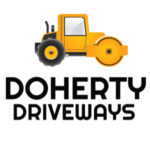 Oakland Drive Greystones
,
Limerick County Limerick
Doherty Driveways is a driveway contractor that specialises in laying block paving, tar and chip and tarmacadam driveways throughout Limerick. They can lay garden paving in patios, create customer pathways using brick bordering with more options available such as new walls or steps at the front door. With over 30 years of experience in the industry, we guarantee quality installations for your home or business.
We provide unrivalled services for transforming the front or back of your home in Limerick, Ireland. With options that include replacing your old driveway, extending it or converting a front garden area into a completely new driveway area. In patio and garden areas, we can replace or extend an older patio area, create elevated and retained patios using wooden sleepers or brick walling to transform any outdoor space you have!
We can transform the front or back of your home in Limerick with new and innovative ideas. We replace old driveways, extend them, convert a garden area into driveway areas for you! Furthermore, we offer custom-designed pathways to give that extra special touch to any lawns you may have!
Call Doherty Driveways in Dublin on 061 518374 to book a free estimate for a new driveway, patio or garden in Limerick, Ireland.
Projects By
Doherty Driveways
No Title
Brilliant job done creating our driveway! Would recommend them all day long.
First class work
Absolutely first class work, from friendly, polite, tidy lads.
Tarmac driveway
Professional, punctual and responsive - thank you for our new tarmac driveway!
Delighted!
Absolutely delighted with the service from start to finish. They've built the driveway we wanted to a superior standard, and I would thoroughly recommend this business to anyone. First-class indeed!
Frequently asked questions
How is Doherty Driveways rated?
Doherty Driveways has a rating of
5 Stars (based on 9 reviews)
What days are Doherty Driveways open?
They are opened
What towns and regions do Doherty Driveways work in?
Limerick City, Askeaton, Bruff, Croom, Kilkeedy, Abbeyfeale, Pallasgreen,
What services do Doherty Driveways provide?

Block Paving, Tarmac Driveways, Tar and Chip Drives, Gravel Driveways, Tarmacadam, Resurfacing, Tarmac Sealing,