O'Brien Driveways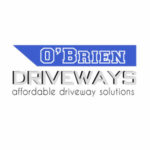 O'Brien Driveways are a family run business located in Dublin. We specialise in laying down tarmac driveways, block paving, resin drives and imprint concrete driveways in Dublin. Along with the driveway services, we offer boundary walls, aprons and more. We also install patio slabbing, including sandstone, limestone patios, concrete slabs and garden paving. Extra options available include brick bordering, new walls, wooden fencing and more. We use only our own trained installers to ensure a long-lasting installation for your home or property from start to finish.
We are the experts at designing, installing and maintaining your new patio or driveway. We offer a range of services from simple to complex for residential properties in Dublin, Ireland. Our team will carry out all work with care ensuring it's completed on time, within budget and to the highest standards so you can be confident that we'll do an excellent job for you!
We've got the driveway and patio solutions you need - whether it's block paving, tarmac, resin bound or natural stone. For a professional service at an affordable price, call us today!
Call O'Brien Driveways in Dublin 12 on 01 403 6175 to book a free estimate for a new driveway, patio or garden in the County Dublin region of Ireland.
Projects By
O'Brien Driveways
We have no reviews for this profile. Why not leave a review yourself?
Frequently asked questions
How is O'Brien Driveways rated?
O'Brien Driveways has a rating of
0 Stars (based on 0 reviews)
What days are O'Brien Driveways open?
They are opened
What towns and regions do O'Brien Driveways work in?
Clondalkin, Coolock, Lucan, Blackrock, Dalkey, Swords, Blanchardstown, Clonee, Santry, Finglas, Tallaght,
What services do O'Brien Driveways provide?

New Driveways, New Patios, Wooden Fencing, new Lawns, Bricklaying, Granite Stone, Tarmacadam Driveways, Resurfacing, Kerbing and Edging, Gravel Driveways, Concrete Slabbing,