Select Paving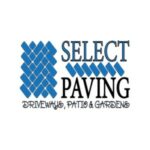 Kandoy House, Fairview Strand
,
Dublin
Paving Contractors in Dublin, Ireland
Select Paving are a paving company that services the region of County Dublin in Ireland. Their contractors provide a range of services for improving the front and back of your home using a range of natural stone products, manufactured and landscaping features.
Starting with driveways, they can replace or extend your driveway to increase the parking space on it. Along with replacing driveways, they can convert front gardens into new driveway areas, which will help get your car off the pavement completely in Dublin.
Driveway surfacing services from Select Paving in Dublin includes laying tarmacadam, asphalt, block paving, driveway paving and gravel driveways. For slabbing, you can view our rated patio contractors in Dublin for other choices and options in your garden.
Driveway Installation Choices in Dublin
When it comes to replacing your old driveway in Dublin, the first task you face is what type of driveway would you like to have installed.
The main driveway choices are block paving with Kilsaran or Tobermore, gravel driveways with the stone sourced from local quarries or tarmac driveways.
The most popular option would be a tarmac driveway, and the most affordable option for a driveway is the gravel driveway choice.
You could opt for a block paving driveway, but these come with the highest cost and can take longer than other driveways to complete.
After deciding on what kind of driveway you wish to have installed, it's now time to start looking at the costs involved in installing block paving or gravel driveways.
What is the cost of block paving?
When considering block paving, the first thing that people think about block paving is the price tag attached to this type of driveway; however, block paving is one of the lowest-priced products that you can install due to its simplistic design. The cost factor will depend on how many blocks there are per square metre.
The average block paving size is 100mm x 200mm x 50-60mm, and the cost of block paving will depend on how many blocks there are per square metre.
For example, 1 sqm requires 50 blocks with an average pack of blocks (50mm range) containing 480. This means an average paving pack from Kilsaran using the Slane range will cover 9.6 m2. An Average 50m2 driveway would require 6 packs since you have to allow for cuts and wastage during an installation.
Block paved driveways are expensive compared to tarmac or gravel. Still, they do last twenty to thirty years if installed properly, so it may be worth spending more initially if you want peace of mind knowing you'll have to replace your driveway again soon as opposed to block paving which can last up to three decades where other types such as tarmac could only last around.
What is the cost of tarmac?
The cost of getting a tarmac driveway laid falls in between a gravel driveway and a block paved driveway.
It certainly is more durable than a gravel driveway and will provide you with less maintenance than a block paved driveway as well.
The cost of a tarmac driveway can increase with the option of brick bordering or apron styles on the driveway.
The common type of bordering for a tarmac driveway is brick paving, adding on average €500 - €800 for a standard-sized driveway. The more expensive option for tarmac bordering is the granite cobble sets, increasing the cost between €1200 and €2000 depending on the style chosen and any retained edges to match it.
What is the cost of gravel?
Gravel is cheaper than block paving due to its lower product cost and is the easiest installation process since it is less labour intensive.
Available in a wide range of natural stone colours, an average gravel driveway would cost around €2000 - €2500 in Dublin. Depending on the bordering style, paved aprons and other features such as pathways that Select Paving can add to a gravel driveway, the price can increase significantly.
Call A Local Paving Company
Call Jim and his team at Select Paving on 01 6856262 to schedule a free quote from their paving contractors in Dublin, highly rated and respected throughout County Dublin. If you live outside Dublin, there are other listed specialists; for example, we have paving contractors in Cork and other nearby regions in Ireland.
Projects By
Select Paving
Porcelain tiles in back garden and permeable paving in the front garden
Myles and Jim's team arrived on schedule and on time each day and finished both jobs in just over a week .
Porcelain tiles with steps and stepping stones to shed done first in back garden and then a flower bed shaped in the front garden and paving with front door step completed in front garden
Front and back garden paving
Got our front and back gardens done by Jim and the lads, beautiful granite paving in the back and tarmac with edging in the front with new walls and pillars. The team worked really hard and finished the job with a professional finish, we're delighted with the work and would have no problem recommending them.
Asphalt Driveway
Great job from Jim and his team. Very professional and quick. We're delighted with our new asphalt driveway
New Garden
Delighted with our new garden!
New Patio
Delighted with our new patio Jim and his team at Select Paving worked very hard and did a great job. Very neat and tidy, the whole job done in a day. Would highly recommend.
Frequently asked questions
How is Select Paving rated?
Select Paving has a rating of
5 Stars (based on 21 reviews)
What days are Select Paving open?
They are opened
What towns and regions do Select Paving work in?
Dublin, South Dublin, North dublin, Dublin City, Swords, Balbriggan, Malahide, Lusk, Lucan, Rathcoole, Clondalkin, Blackrock, Carrickmines, dalkey, Castleknock, Donate, Dun Laoghaire,
What services do Select Paving provide?

Driveway paving, New patios, Block paving, Kilsaran paving, New driveways, Gravel driveways, Tarmac driveways, Patio slabbing, Sandstone patios, Porcelain patios, Granite patios, Artificial grass, Roll on turf lawns, Wooden fencing, Concrete driveways, Retained patios, Wooden sleepers,