Select Paving Kildare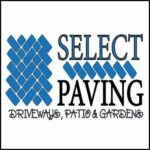 Moore Avenue
,
Newbridge, Co. Kildare
Select Paving Kildare is a driveway and patio installation company that specialises in block paving, resin driveways, and tarmac driveways. We offer sandstone, limestone patios, concrete slabs, garden paving bricks with more options available such as new walls or steps at your front door.
With over 30 years of experience in the industry, we guarantee quality installations for your home with a range of tailored options to suit any home. We provide an unrivalled service in Kildare, from replacing driveways out the front of your home to building new patios and gardens out the back.
We provide unrivalled service for transforming the front or back of your home in Kildare, Ireland. With options that include replacing your old driveway, extending it or converting a front garden area into a completely new driveway area. In patio and garden areas, we can replace or extend an older patio area to create elevated and retained patios using wooden sleepers to transform any outdoor space you have!
From block paving driveways to laying tarmac driveways out the front to put down new patios using sandstone, garden paving and concrete slabbing out the back. We get it done on time and to your budget!
Call Select Paving in Moore Avenue, Newbridge, Ireland, on 045 832875 to get a free estimate for a tarmac driveway, new patio or block paving. We service all County Kildare, including Newbridge, Kildare, Maynooth, Naas, Monasterevin and all the surrounding areas.
Projects By
Select Paving Kildare
We have no reviews for this profile. Why not leave a review yourself?
Frequently asked questions
How is Select Paving Kildare rated?
Select Paving Kildare has a rating of
0 Stars (based on 0 reviews)
What days are Select Paving Kildare open?
They are opened
What towns and regions do Select Paving Kildare work in?
Kildare, Naas, Maynooth, Celbridge, Clanre, Kilcock, Edenderry, Carbury, Monasterevin, Athy, Castledermot, Calverstown, Blessington, Prosperous, Enfield,
What services do Select Paving Kildare provide?

Tarmac Driveways, Gravel Driveways, Block Paving, Tar and Chip, New Patios, Sandstone Patios, Limestone Patios, New Lawns, Wooden Fencing, Granite Patios, Bricklaying, Artificial Grass, Roll on Turf Lawns, Front Garden Conversions, Driveway Extensions,