Vantage Drives and Patios LTD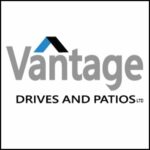 Vantage Drives and Patios LTD
145 New London Road
,
Chelmsford
CM2 0QT
Vantage Drives and Patios LTD is a family-owned business that has been in operation for over 35 years. We are specialists in all types of driveways, patios and slabs. Our team have the skills to create a beautiful driveway or patio for you, no matter what your budget may be.
We offer a variety of options including block paving, gravel driveways and tarmac driveways as well as sandstone, limestone patio slabs or concrete slabs for garden paving. Our experienced team will make sure that your new driveway or patio installation matches your needs perfectly.
The patios and gardens in your home are important to you. They're one of the first things that guests see when they arrive, so it's always a good idea to take care of them! If your garden or patio is looking old and tired—or if there isn't enough space for entertaining friends and family—we can help turn it into something beautiful again with any number of transitional landscaping services tailored just for you.
We replace those older concrete slabs on raised beds with new ones; we create custom pathways made from wooden sleepers (for elevated patios) or brick walling (to keep plants contained); we design new shapes using all sorts of materials like brick paving blocks, sandstone slabbing, grassy lawns and more.
Call Vantage Drives and Patios LTD in Chelsmford on 01245 526121 to get a free estimate in Chelmsford, Chipping Ongar, Billericay, Braintree and all the surrounding areas in Essex.
Projects By
Vantage Drives and Patios LTD
new driveway
Have a good eye for detail, the design was to improve the look of the drive
Great job
I would recommend Vantage- they are a straightforward 'do as they promise' organisation- delivering a great job on time and on budget.
Good work
Very good quality work. Did great work for my son. Very pleased with the work
No Title
Friendly, helpful, flexible and accommodating
Frequently asked questions
How is Vantage Drives and Patios LTD rated?
Vantage Drives and Patios LTD has a rating of
5 Stars (based on 9 reviews)
What days are Vantage Drives and Patios LTD open?
They are opened
What towns and regions do Vantage Drives and Patios LTD work in?
Chelmsford, Broomfield, Maldon, Witham, Chipping Ongar, Epping, Billericay, Braintree, Heybridge, Waltham,
What services do Vantage Drives and Patios LTD provide?

Driveway paving, Tarmac driveways, Laying tegula paving, New patios, sandstone patios, limestone, new lawns, bricklaying, wooden fencing, Gravel driveways,