Roofcraft Dublin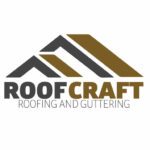 Ravens Rock Road, Sandyford Industrial Estate
,
Dublin
Roofcraft is a roofing company based in County Dublin, Ireland. The roof specialists at Roofcraft Dublin provide unrivalled service for works to your roof, which includes flat roofs, pitch roofs, felt roofing, gutters, soffits, cladding and more.
Roofing Contractors in Dublin
On flat roofs, the Roof Specialists can lay down a range of affordable roofing types that include fibreglass roofs, felt membrane roofs, rubber roofs and GRP roofing. For shed areas and lean-tos, they can put in corrugated sheeting as a roof or create artificial skylights using transparent perspex sheeting.
On pitched roofs, they work with slate tiling, ridge tiling, lead flashing, most uPVC products and brickwork. From repointing chimneys and fixing loose flashings to finding and fixing leaks in your roof.
Gutters, Soffits and Fascia Services
They provide an excellent guttering service throughout County Dublin in Ireland. Their gutter replacement options include putting in new uPVC guttering, seamless guttering, soffits, fascia and cladding on your house.
You should always try to get your guttering cleared out once a year to make sure they are still functioning correctly. Once moss starts to block up your gutters, the weight of the algae combined with the backlogged water will cause your guttering to become unstable and come loose from its brackets.
A simple maintenance check by a gutter replacement and cleaning service such as the one provided by Roofcraft in Dublin will help significantly in keeping your gutters running smoothly all year round.
Why not call the roofers at Roofcraft today on 01 264 6790 for a free estimate in County Dublin, Ireland, from fixing leaks on roofs, roof valley repairs, ridge tiling and more.
Projects By
Roofcraft Dublin
Roof repair
Fantastic service great guys 1st class from start to finish the whole team were brilliant
Flat roof
Got our flat roof on kitchen extension re- felted and new sky light installed by Pat and his crew. Excellent service and workmanship. No hesitation in recommending them.
Roof repair
Excellent roofing company. Highly recommend
Roofing
They were very polite and informative. I trusted his knowledge in roofing immediately and I'm very pleased with their work!
New roof
So very pleased with the new roof, guttering & facia's that pat did for us. My wife & myself would recommend pat & Roofcraft to anyone. So friendly professional when finished are place was left immaculate thanks again.
Frequently asked questions
How is Roofcraft Dublin rated?
Roofcraft Dublin has a rating of
5 Stars (based on 10 reviews)
What days are Roofcraft Dublin open?
They are opened Mon-Sat, 9am - 6pm
What towns and regions do Roofcraft Dublin work in?
Dublin City, South Dublin, North Dublin, Sandyford, Swords, Dun Laoghaire, Lucan, Clondalkin, Finglas, Malahide, Dundrum,
What services do Roofcraft Dublin provide?

Roof Repairs, Leaking Roofs, Fibreglass Roofing, Felt Roofing, Slate Roofs, Chimney Flashings, Loose Tiles, Dry Verges, Roof Valleys, Ridge Tiles, Gutter Repairs,